The Benefits of Microsoft Power Platform
By Manufacturing Works - March 08, 2023
The Challenge
A Cleveland-headquartered chemical contract manufacturer, offering dry and liquid manufacturing and packaging across multiple locations, wanted to grow but was constrained by production capacity across its bottling lines. It seemed like the lines were full, but the production process did not feel very efficient. The company was presented with an opportunity for more business in a marginally profitable product line and was not sure if they should take on the additional business.
The company has many bottling lines with varying degrees of output. An early analysis showed that the raw cycle time for bottling indicated gross capacity of 20,000 bottles per day, but the company was experiencing only about 4,000 bottles per day. While this raw ERP data showed a large gap in productivity, there was no granular data to track it to specific products or machine issues.
The company then installed sensors to obtain real-time information. While this data provided new information, it also raised many more questions. At the same time, the company began to build web-based apps with their existing technology. These apps took considerable skill and time to develop and looked and functioned poorly.
Action Taken
The company became aware of the Microsoft Power Platform (Teams, Power BI, Power Apps, Power Automate) as a potential solution. These applications bring everything together in a shared workspace. They seamlessly connect your data for quick and easy analysis, convert insights into action with custom apps, and automate timely business processes.
The first app the company built (using internal resources) was used to log and track machine downtime reason codes. This app also sent reports to the leadership team every couple of hours with the machine status and percentage of run time. After the app was built and data was readily available the company took the following actions:
A project manager was assigned to review the data and start to address root cause issues
The project manager spent a few months on the shop floor to validate the data and identify issues
The leadership team agreed that change was required and supported the process
The project manager and shop floor team worked on one machine at a time to make changes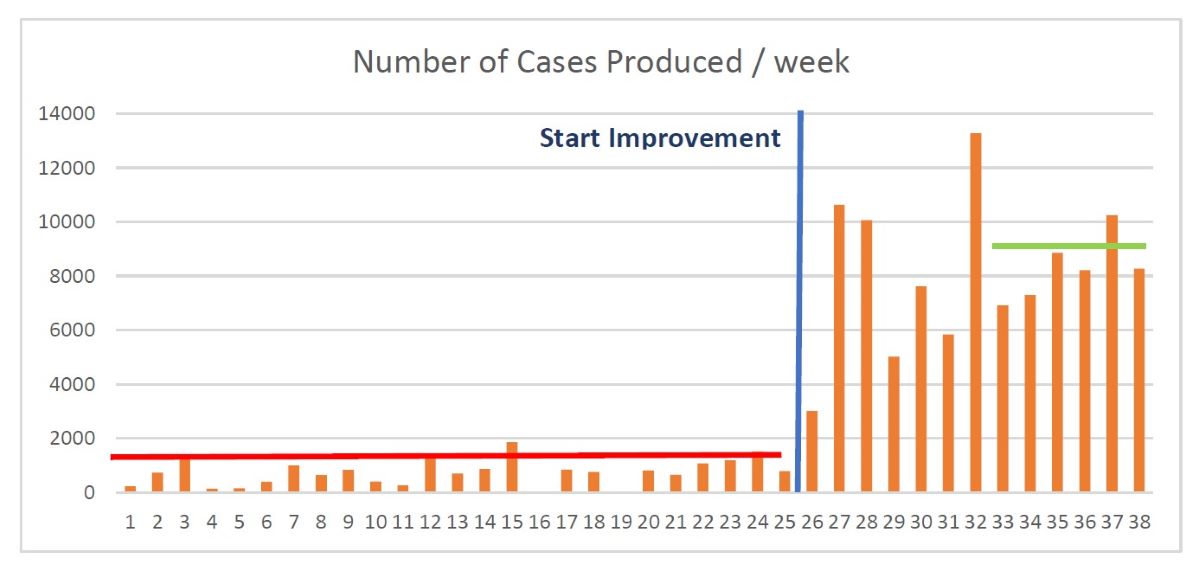 Outcomes
The impact on one major bottling machine line was significant. After measuring a baseline for 25 weeks, a team was focused on eliminating issues causing production downtime. After 13 weeks, the team was able to sustain an improvement of 11X and a gross margin improvement of over 4X for these products.
---

"Transforming the organization required dedicated resources and management alignment. Once actual data was used to diagnose and address root cause issues, the changes were less emotional and more objective, and productivity increased quickly."

---
What Else Should You Know About Microsoft Power Platform
The hardest part of the journey is cultural change and having the right members of the team in place. Change is difficult for every team and direct leadership support and engagement is critical for success. This way of looking at your operations may be more objective but can be seen as critical.
The Microsoft Power Platform Tools are a relatively simple way to learn how to capture, store, and automate data, leading to more informed decisions and focused improvement efforts. Many companies already own this suite of tools with their existing Microsoft subscriptions – they just don't realize it!
Start with something simple. Standard checklists are a good place to start. Building an app will give you similar data that you are collecting on paper, but it will be timestamped and logged permanently. This allows you and your team to quickly locate the information in the future and use it for root cause analysis.
Digital transformation is a long and steady journey, very similar to continuous improvement. The more you do, the more opportunities you will find. As your team becomes more familiar with the application and its uses, companies typically imbed more Power Apps and Power BI into the team's platform. They also start to build more complex robotic process automation (RPA) programs to automate repetitive tasks. Finally, they begin to reach outside of their own organization and build PowerApps customer portals and virtual agent functions.
The path through a digital journey will be unique, but may include some common elements experienced by this company:
Production monitoring by machine
Downtime and reason code recording
Changeover checklists
Receiving and locating materials
Pick and stage raw materials
Process shop floor transactions to ensure quality
Measure schedule completion
Report maintenance issues and track them through to completion
Safety reporting and resolution
Automating order entry
Validation of process routings
If you have questions, contact Ron Clough, Vice President of Manufacturing Services, at 216.920.1968.