Cleveland Manufacturers Step Up to Support the Fight Against COVID-19
By Manufacturing Works - May 12, 2020
Over the next few weeks, Manufacturing Works will be highlighting some of our many members who have aided in the fight against COVID-19. Up first, we will be taking a look at Dan T. Moore Company.
Not only has COVID-19 directly affected our everyday lives, but it has also affected businesses worldwide. In the midst of all of the uncertainty that COVID-19 has caused, two Dan T. Moore companies and members of Manufacturing Works, SecondBreath and Team Wendy, have stepped up to the plate in the fight against the coronavirus.
SecondBreath is a brand new company started and staffed by employees from multiple Cleveland manufacturing companies that are all under the Dan T. Moore Company portfolio. While these companies typically do not manufacture healthcare resources, they identified a need in our country and came together to form SecondBreath, delivering a ventilator that has a huge impact on hospitals that are overwhelmed by the increasingly large amounts of COVID-19 patients. Not only were they quick to create this concept, but they were also able to ramp up production and get FDA approval in a matter of weeks. That alone is truly remarkable! Additionally, experts have said ventilators cost anywhere from $20,000 to $100,000 and SecondBreath's ventilators only cost around $6,000.
See how the ventilator works:
Team Wendy, a manufacturer of head protection systems for the military, law enforcement, and search and rescue communities, is helping to produce cloth masks for medical personnel. The company has transitioned some members of its team of several dozen professional sewers from their everyday duties to sewing cloth masks. In the last few weeks, the company purchased enough material to make more than 10,000 cloth masks using a pattern recommended by University Hospitals. Team Wendy has been donating the masks to four Cleveland-area hospitals on a weekly basis as masks are completed, all while maintaining production of its life-saving helmets for our nation's first responders.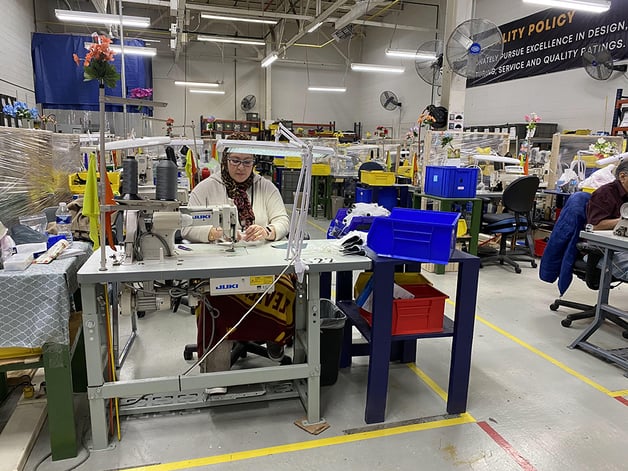 Thank you, Cleveland!
Manufacturing Works is so fortunate to be able to serve manufacturing companies in Cleveland that continue to better our community and country. On behalf of our community, we want to say thank you to all of our hard-working manufacturers!